Indicador Fluorescente amarillo verdoso de potasio y es membrana impermeable. Mayor afinidad por potasio que IPG-1 e IPG-2, con selectividad mejorada por potasio sobre sodio.
Descripción
ION Potassium Green – 4 (IPG-4) es un indicador de potasio intracelular (K⁺) fluorescente amarillo-verde con Ex/Em: 525 nm/545 nm y una alta sensibilidad para detectar pequeños cambios en la concentración de K⁺. IPG-4 tiene la mayor afinidad (Kd = 7 mM) entre los análogos de IPG: IPG-2 (Kd = 18 mM) e IPG-1 (Kd = 50 mM).
La sal de IPG-4 TMA⁺ es una forma de IPG-4 impermeable a la membrana que se puede usar en sistemas sin membrana lipídica, en liposomas o se puede introducir en las células mediante electroporación, microinyección u otros métodos. IPG-4 se ha utilizado con éxito como sensor de K⁺ extracelular.
Sinonimos: Asante Potassium Green, Ion Potassium Green, APG, IPG, APG-4, IPG-4
| Catalogo | Producto | Presentación |
| --- | --- | --- |
| ON-3023F | Indicador IPG-4 TMA⁺ Salt | 10 x 50 ug |
| ON-3023C | Indicador IPG-4 TMA⁺ Salt | 500 ug |
Contáctenos para pedidos de mayor volumen
Especificaciones
IPG-4 TMA+ Salt es utilizado para medir el potasio extracelular. La mayor afinidad entre los análogos de IPG
---
Productos Relacionados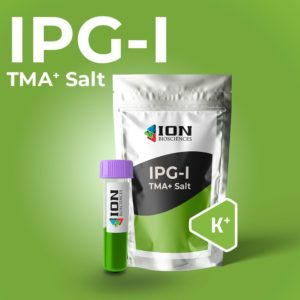 Referencias
Rana PS, Gibbons BA, Vereninov AA, Yurinskaya VE, Clements RJ, Model TA, Model MA. Calibration and characterization of intracellular Asante Potassium Green probes, APG-2 and APG-4. Anal Biochem. 2019 Feb 15;567:8-13. doi: 10.1016/j.ab.2018.11.024
Kilic K, Karatas H, Dönmez-Demir B, Eren-Kocak E, Gursoy-Ozdemir Y, Can A, Petit JM, Magistretti PJ, Dalkara T. Inadequate brain glycogen or sleep increases spreading depression susceptibility. Ann Neurol. 2018 Jan;83(1):61-73. doi: 10.1002/ana.25122
Wellbourne-Wood J, Rimmele TS, Chatton JY. Imaging extracellular potassium dynamics in brain tissue using a potassium-sensitive nanosensor. Neurophotonics. 2017 Jan;4(1):015002. doi: 10.1117/1.NPh.4.1.015002
Prindle, A., Liu, J., Asally, M. et al. Ion channels enable electrical communication in bacterial communities. Nature 527, 59–63 (2015). https://doi.org/10.1038/nature15709
Ong, S. T., Ng, A. S., Ng, X. R., Zhuang, Z., Wong, B. H. S., Prasannan, P., … & Chandy, K. G. (2019). Extracellular K+ dampens T cell functions: implications for immune suppression in the tumor microenvironment. Bioelectricity, 1(3), 169-179.
Humphries J, Xiong L, Liu J, Prindle A, Yuan F, Arjes HA, Tsimring L, Süel GM. Species-Independent Attraction to Biofilms through Electrical Signaling. Cell. 2017 Jan 12;168(1-2):200-209.e12. doi: 10.1016/j.cell.2016.12.014
Garantia ION Assurance. La calidad de este producto esta garantizado. Si no está satisfecho con su pedido, trabajaremos para resolver de inmediato su inquietud de acuerdo con nuestros términos y condiciones de ION Assurance.
---