Indicador de calcio permeable a la membrana. Mayor afinidad por el calcio con carga intracelular superior.
Descripción
Fluo-2 es un indicador verde fluorescente de calcio (Ca²⁺). Fluo-2 tiene mayor afinidad por Ca²⁺ (Kd = 290 nM), carga celular superior y propiedades espectrales comparables en comparación con Fluo-4. Ofrece una sensibilidad superior frente a otros análogos de Fluo a concentraciones más bajas de Ca²⁺.

La sal Fluo-2 K⁺ es una forma impermeable a la membrana de Fluo-2 que se puede usar en sistemas sin membrana lipídica, en liposomas, o se puede introducir en las células mediante electroporación, microinyección u otros métodos.
| Catalogo | Producto | Presentación |
| --- | --- | --- |
| ON-1022B | Indicador Fluo-2 K⁺ Salt | 1 mg |
| ON-1022E | Indicador Fluo-2 K⁺ Salt | 20 x 50 ug |
Información
| | |
| --- | --- |
| Excitación | 490 nm |
| Emisión | 515 nm |
| Kd | 290 nM |
| Peso molecular | 891 g/mol |
| Solubilidad | H2O |
| Pureza | >90% |
Productos Relacionados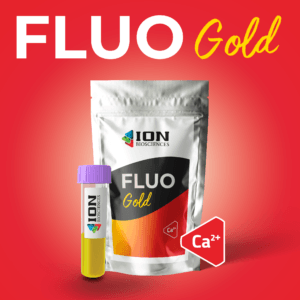 Garantia ON Assurance. La calidad de este producto esta garantizado. Si no está satisfecho con su pedido, trabajaremos para resolver de inmediato su inquietud de acuerdo con nuestros términos y condiciones de ION Assurance.
Referencias
Gee KR, Brown KA, Chen WN, Bishop-Stewart J, Gray D, Johnson I. Chemical and physiological characterization of fluo-4 Ca(2+)-indicator dyes. Cell Calcium. 2000 Feb;27(2):97-106. doi: 10.1054/ceca.1999.0095
---
Bovo E, Dvornikov AV, Mazurek SR, de Tombe PP, Zima AV. Mechanisms of Ca²+ handling in zebrafish ventricular myocytes. Pflugers Arch. 2013 Dec;465(12):1775-84. doi: 10.1007/s00424-013-1312-2. Epub 2013 Jul 3. PMID: 23821298; PMCID: PMC4138713.
---
Rodriguez AL, Grier MD, Jones CK, Herman EJ, Kane AS, Smith RL, Williams R, Zhou Y, Marlo JE, Days EL, Blatt TN, Jadhav S, Menon UN, Vinson PN, Rook JM, Stauffer SR, Niswender CM, Lindsley CW, Weaver CD, Conn PJ. Discovery of novel allosteric modulators of metabotropic glutamate receptor subtype 5 reveals chemical and functional diversity and in vivo activity in rat behavioral models of anxiolytic and antipsychotic activity. Mol Pharmacol. 2010. 78(6):1105-23.
21/cn200090z.
---
Zixiu Xiang 1, Analisa D Thompson, John T Brogan, Michael L Schulte, Bruce J Melancon, Debbie Mi, L Michelle Lewis, Bende Zou, Liya Yang, Ryan Morrison, Tammy Santomango, Frank Byers, Katrina Brewer, Jonathan S Aldrich, Haibo Yu, Eric S Dawson, Min Li, Owen McManus, Carrie K Jones, J Scott Daniels, Corey R Hopkins, Ximin Simon Xie, P Jeffrey Conn, C David Weaver, Craig W Lindsley. The Discovery and Characterization of ML218: A Novel, Centrally Active T-Type Calcium Channel Inhibitor with Robust Effects in STN Neurons and in a Rodent Model of Parkinson's Disease. ACS Chem Neurosci. 2011. 21;2(12):730-742. doi: 10.10
---